Warm and inviting firepits can be the heart of any outdoor gathering, creating a cozy atmosphere that brings people together. With a variety of firepit options available, including those from Designing Fire, Castelle, POLYWOOD, Windward, Lloyd Flanders & Gensun, Porch + Patio can help you find the perfect firepit to match your outdoor space and hosting style.

Shapes and Designs: Picking the Right Style
Firepits come in a range of shapes and designs, including octagon, square, round, and rectangle, offering varied aesthetics to work for any outdoor space
Octagon: An octagon-shaped firepit provides a unique and eye-catching design that adds a touch of elegance to your outdoor gathering.
Square: Square firepits offer a clean and contemporary look, perfect for those who want a sophisticated yet understated fireside experience.
Round: Round firepits are classic and versatile, providing a cozy and intimate setting for your guests to gather around and enjoy the warmth of the fire and each other's company.
Rectangle: Rectangle firepits are perfect for larger gatherings, offering ample space for everyone to enjoy the fire while still engaging in meaningful conversations.
Sizing is Key
Firepits come in a variety of sizes, from 24" to 75", with many options in between. When choosing a firepit size, make sure to consider the amount of space you have available for seating around the firepit. You want your guests to be able to sit comfortably around the fire, and enjoy its warmth without feeling cramped or crowded.
Mixing Functionality with Style
The base and top of your firepit are important considerations when it comes to both functionality and style.
Bases: Firepit bases are available in synthetic wicker, natural wicker and aluminum, all available in a variety of finishes and styles, each offering a different aesthetic. Whether you're looking for rustic, traditional, transitional, or modern, there's a material and finish that will bring your vision to life.
Tops: Firepit tops come in a range of materials, including granite, finished stone, HDPE or MGP, cast or extruded aluminum, and even copper.Having such a wide array of materials available ensures that you'll find something that works in concert with your space and elevates your outdoor gathering in just the right way
Adding a Touch of Color and Texture
The media you choose for your firepit can add a pop of color and texture to your fireside experience. Options include round clear pebbles, colored glass, colored reflective glass, and stone, each providing a unique look and feel.
Round Clear Pebbles: These pebbles add a touch of elegance and sophistication to your firepit, creating a sleek and modern look.
Colored Glass: Colored glass adds a vibrant and eye-catching pop of color, perfect for those who want to make a statement with their firepit.
Colored Reflective Glass: This glass reflects the light of the fire, creating a stunning and mesmerizing effect that will captivate your guests.
Stone: Stone adds a rustic and traditional touch to your firepit, creating a cozy and inviting atmosphere.
Keeping the Fire Burning
Firepits generally run on small propane tanks housed inside the base, but many can also be plumbed in to a natural gas or propane line by a licensed contractor. This provides a convenient and efficient way to keep the fire burning, allowing you and your guests to enjoy the warmth and ambiance of the firepit for hours on end.
Sit Back and Relax with the Perfect Fireside Experience
A firepit can be the centerpiece of any outdoor gathering, providing warmth, ambiance, and a cozy atmosphere that brings people together. With a range of shapes, sizes, materials, and media options available, you can find the perfect firepit to match your outdoor space and hosting style. Get ready to gather around, share stories, enjoy delicious food, and create lasting memories with your friends and loved ones by the fire.
Our Team at Porch + Patio is here and ready to help you cozy up next to your new firepit.  Let one of our talented and trained associates walk you through your options and help you plan out your perfect patio retreat. We'll walk you through design options and staging so all that's left for you to do is kick back and warm your feet by the fire! Visit one of our stores (Kingsland or St. Simons) today to get started!
Selecting the perfect outdoor furniture can transform your patio, porch, sunroom or lanai space into a sanctuary of relaxation and entertainment. Having worked extensively with outdoor furnishings, we understand the intricacies involved in choosing the right pieces, and are eager to share some expert advice to guide you through your patio furniture shopping journey. Before embarking on your shopping expedition, it's crucial to assess your needs realistically.
Prioritizing Your Needs: Start with the Basics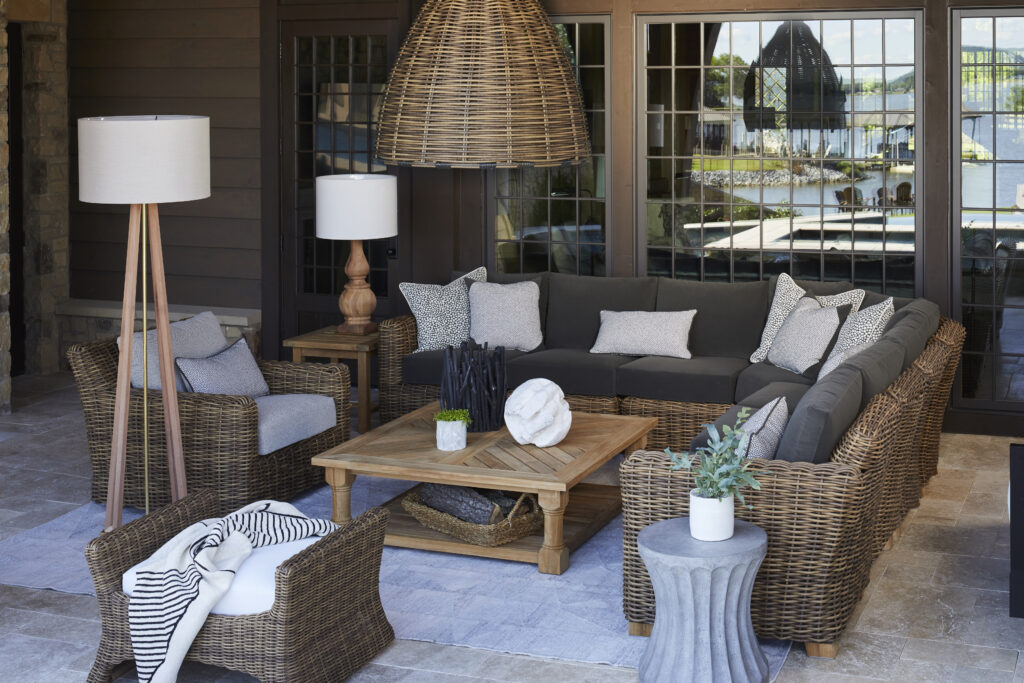 Rank Your Priorities
Determine the function, the number of people the furniture will serve, and your budget. Being honest with yourself about these factors from the get-go will narrow down your options and help you make informed decisions.
Expect to Invest
Outdoor furniture is engineered to endure much more than its indoor counterparts, so anticipate spending a bit more for that resilience. Quality is paramount when it comes to braving the elements, and investing in high-performance pieces will pay off in longevity and style.
Choosing the Right Retailer: Quality Over Quantity
Avoid Big Box Stores and Large Online Retailers
The offerings from big box stores and substantial online retailers often lack the quality provided by specialists in outdoor furniture. Opt for retailers with expertise in outdoor furnishings to ensure you acquire pieces that are durable, stylish, and suitable for your space.
Personalized Service from Small Businesses
Porch + Patio offers a more personalized and comprehensive service when patio furniture shopping, including value-added services such as complimentary space-planning, assembly, delivery, and installation, and advice on maintenance. We can also assist with warranty issues, providing a level of care and attention that larger retailers can't match. And remember, FedEx and UPS won't assemble your furniture, no matter how politely you ask!
Price Considerations: Manufacturer vs. Retailer
Directly approaching the manufacturer rarely yields better prices. Small businesses, however, not only provide personalized consultations and services but also often have competitive pricing, ensuring you receive value for your investment.
Timing is Everything: Plan Ahead
Shop for Spring/Summer in the Previous Fall
Manufacturers have varying lead times, which also fluctuate throughout the year. To avoid disappointment and ensure your new furniture arrives in time for the warmer months, start your shopping journey in the fall of the previous year.
Stay Informed on Lead Times
Being aware of manufacturers' lead times is crucial. It enables you to plan effectively, ensuring that your desired pieces are available and delivered on time, ready to grace your outdoor space when the weather warms up.
Lets Start Shopping
Patio furniture is more than just an aesthetic addition to your outdoor space; it's an investment in your lifestyle. Choosing the right pieces requires a clear understanding of your needs, a focus on quality, and the right timing. Remember, the expertise and personalized services offered by small specialists in outdoor furniture, such as us here at Porch+Patio, can significantly impact the satisfaction and enjoyment you derive from your outdoor space.  We're here and ready to help walk you through the process and on your way to relaxing on your beautiful new patio!
The holiday season is all about celebrating with loved ones, and what better way to do that than by hosting a delightful outdoor feast? An outdoor dining table can transform your space into the perfect gathering spot for family and friends to come together and make lasting memories. In this quick guide, we'll explore the various options available to help you find the ideal outdoor dining table for your festive celebrations.
Heights: Setting the Stage for Your Gathering
The height of your outdoor dining table is a crucial factor in determining the atmosphere of your holiday gathering.
Dining Height: Standard dining height tables are around 28 to 30 inches tall and are perfect for formal holiday meals. A dining height table sets the stage for a traditional sit-down dinner where guests can enjoy a delicious feast while engaged in meaningful conversations.
Chat Height: Chat height tables, typically around 23 inches tall, are designed for more casual gatherings. These tables are perfect for intimate conversations over a cup of hot cocoa or a glass of mulled wine. They create a cozy and relaxed atmosphere that encourages guests to linger and chat.
Counter (Balcony) Height: Counter height tables, usually around 36 inches tall, offer a versatile option for both dining and casual gatherings. These tables are great for hosting a buffet-style holiday meal where guests can easily mingle and help themselves to the delicious spread.
Bar Height: Bar height tables are the tallest option, typically around 42 inches tall, and are ideal for cocktail parties and social gatherings. They create a lively and energetic atmosphere, perfect for clinking glasses and sharing laughs.
Materials - Where Durability Meets Style
The material of your outdoor dining table plays a significant role in its durability and overall aesthetic.
Wicker: Wicker tables, available in both synthetic and natural options, offer a timeless and traditional look. They are perfect for creating a polished holiday setting where guests can gather around and enjoy a hearty meal. Synthetic wicker is especially durable and weather-resistant, making it a great option for covered or uncovered spaces.
Cast Aluminum: Cast aluminum tables are heavy duty, won't rust like steel does, and easy to maintain. They are a great option for impromptu holiday gatherings as they can be easily moved and set up. Their designs can be sleek and modern, or more ornate with traditional touches, adding a touch of sophistication to any outdoor space.
Teak: Teak is known for its durability and natural beauty. A teak table adds an element of elegance to your outdoor space and is perfect for hosting a grand holiday feast. The natural oils in teak wood help to resist pests and rot, ensuring your table will stand the test of time.
HDPE or MGP: High-density polyethylene and marine-grade polymer tables are eco-friendly options that are resistant to weather, stains, and UV rays. They come in a variety of colors and styles to match any aesthetic.
Finding the Perfect Fit
The size of your outdoor dining table is another important consideration. You want to ensure that your table can comfortably accommodate all your guests while also fitting within your outdoor space.
For 2: A table for two is perfect for intimate gatherings and romantic holiday dinners. Imagine a cozy setup with a small table, twinkling fairy lights, and a delicious meal shared between two people.
For 4: A table for four is ideal for small families or close friends. It provides a cozy and comfortable setting for holiday gatherings, where everyone can enjoy a festive meal and engage in meaningful conversations.
For 6: A table for six is a great option for larger families or gatherings. It offers ample space for everyone to enjoy the festivities and make lasting memories together.
For 8: A table for eight is perfect for parties and celebrations. It provides enough space for guests to comfortably enjoy a grand holiday feast while also mingling and celebrating together.
For 10+: A table for 10 or more is ideal for grand celebrations and events. It provides ample space for guests to mingle, enjoy delicious food, and create cherished memories together.
When selecting the size of your table, consider expansion tables that can accommodate more guests when needed. We carry brands such as Royal Teak, Lloyd Flanders Frontier, and Daybreak that offer a range of expansion tables that are both practical and stylish. Additionally, drop leaf tables are a great option for those who want the flexibility of adjusting the table size for smaller spaces.
A Table for Every Style
The shape of your outdoor dining table can greatly impact the overall aesthetic of your outdoor space and the atmosphere of your holiday gathering.
Round: Round tables are a classic and versatile option. They create an intimate and cozy setting, perfect for small gatherings where everyone can easily engage in conversations.
Square: Square tables are a modern and contemporary option. They generally seat 2-8 people and are ideal for small to medium-sized gatherings and create a chic and stylish atmosphere.
Rectangle: Rectangle tables are a traditional and popular shape. They seat 6 at a minimum, so are suitable for larger gatherings and grand celebrations, providing ample space for everyone to enjoy the festivities.
Oval: Oval tables are a unique and elegant option. Similar to a rectangle, they are perfect for grand celebrations and events, adding a touch of luxury to your outdoor space.
For those who want something different, there are also more unusual shapes such as hexagons and octagons available. These shapes are perfect for those who want to make a statement and create a unique and memorable holiday gathering.
Expressing Your Style
Finally, the aesthetic of your outdoor dining table should complement the overall style of your outdoor space and reflect your personal style.
Rustic: Rustic tables add warmth and charm to your outdoor space. They are perfect for creating a cozy and traditional holiday setting, where guests can gather around and enjoy a hearty meal together.
Traditional: Traditional tables add a touch of elegance and sophistication to your outdoor space. They are perfect for both intimate gatherings and grand holiday feasts.
Transitional: Transitional tables are a blend of traditional and contemporary styles. They are versatile and suitable for any occasion, adding a fresh and stylish touch to your outdoor space.
Contemporary: Contemporary tables are modern and trendy. They are perfect for those who want a sleek and sophisticated look for their holiday gathering.
Modern: Modern tables add a touch of glamour and sophistication to your outdoor space. They are perfect for those who want to make a statement.
Time to Celebrate!
When it comes to hosting the perfect holiday gathering, an outdoor dining table is a must-have. With the right height, material, size, shape, and aesthetic, you can create a welcoming and festive atmosphere that your guests will love. For help in planning the perfect patio setup for your family and friends to make wonderful memories this holiday season, and for years to come, visit us online or at one of our Porch + Patio Store locations. We'll be happy to help make your holidays a bit brighter!
Living through countless seasons and creating the backbone of our most cherished outdoor spaces, outdoor fabrics encounter an array of environmental challenges. The exterior elements are relentless, and your outdoor furnishing requires the armor to withstand them. Enter performance fabrics, the unsung heroes of durable and stylish outdoor living spaces and the key to long lasting outdoor fabrics & decor.
Understanding Performance Fabrics
Performance fabrics are meticulously designed to endure the most demanding environments. Be it rain-soaked patios or sun-drenched terraces, these fabrics prevail with their unmatched resilience and aesthetic charm. In my extensive experience working with outdoor furnishings and materials, I've observed the incredible benefits of opting for performance fabrics, and I'm here to share these nuggets of wisdom with you. 
The Exceptional Benefits of Performance Fabrics
Unrivalled Durability
Performance fabrics boast extraordinary durability to traffic and environmental elements, promising a prolonged life span for your beloved outdoor pieces. Their robust nature is crucial in areas of high usage, ensuring that the fabric remains intact despite the consistent hustle and bustle.
Fade-Resistant Colors
These fabrics maintain their vibrancy and appeal thanks to their high resistance to color fading. Sun exposure is no match for the resilience of performance fabrics, allowing your outdoor setting to remain vivid and welcoming year after year.
Water and Stain Resistance
Performance fabrics repel water and resist stains, preserving the elegance and cleanliness of your outdoor furniture. Whether it's an accidental spill or a sudden downpour, your fabrics will remain unscathed and ready for the next gathering.
Mold and Mildew Resistance
Thanks to their inherent resistance to mold and mildew, performance fabrics continue to look and feel fresh, even in the most humid conditions. This feature is particularly vital in tropical and coastal areas where humidity levels are high.
Ease of Cleaning
Performance fabrics require minimal effort to maintain. Most outdoor performance fabrics can be cleaned effortlessly with a simple mixture of a gallon of warm water, a cup of bleach, and a squirt of Dawn. Regular maintenance with this solution can help extend the life of upholstered outdoor furniture and rugs, keeping them looking brand-new.
A Friend to the Outdoors
Performance fabrics are a gift to those who adore spending time in their outdoor spaces. They allow you to create a stylish and comfortable environment without the constant worry about wear and tear, stains, or fading colors. Your outdoor sanctuary should be a place of relaxation and enjoyment, and choosing the right fabrics is a significant step towards achieving this goal.
In the quest for creating enduring and aesthetically pleasing outdoor spaces, performance fabrics are the unsung champions. They bring to the table an array of advantages, including unmatched durability, color vibrancy, and resistance to water, stains, mold, and mildew. The ease of cleaning and maintaining these fabrics is like the cherry on top, simplifying your life and letting you focus on enjoying your outdoor haven.
Invest in Your Patio
Remember, investing in long lasting outdoor fabrics & decor for your outdoor space is an investment in your lifestyle and well-being. Opting for performance fabrics will not only elevate the beauty and comfort of your outdoor décor but also ensure that it stands the test of time, allowing you to create a myriad of memories in your beautiful outdoor setting. Get started on creating your perfect patio experience with us today!  We're here to help walk you through the process of design, layout and suggestions for making your patio the envy of the neighborhood!  Visit Us Today!
Creating Your Patio's Symphony of Ambiance and Style
Creating inviting outdoor spaces is akin to painting a masterpiece, where every element and detail contributes to a harmonious and immersive tableau. Drawing inspiration from lifestyle maestros let's embark on a whimsical journey to breathe life and ambiance into our al fresco sanctuaries, turning them into magical retreats.
Illuminate with Whimsy: The Magic of Lights
Dance of the String Lights
String lights bring a soft, enchanted glow to any outdoor setting, creating a dreamscape where laughter and whispers blend with the twinkling stars above. Channel your inner Rachel Ray and drape them across the foliage or along the fences for a dash of whimsy and warmth.
Lanterns & Lamps: Beacons of Elegance
Beautifully utilizes lanterns and lamps to craft an elegant and cozy atmosphere in outdoor spaces. Experiment with different sizes and styles to cast a gentle, welcoming light, inviting serene reflections and intimate conversations.
Candlelit Romance
Candles are the timeless architects of ambiance, radiating a soft, flickering light that wraps every moment in a delicate embrace. Cluster them in groups or place them in intricate holders for an added touch of elegance and charm.
Firepits and Fire's Captivating Dance
A Flickering Symphony
A fire element brings a dynamic, primal energy to your outdoor space. It dances and whispers tales of ancient times, creating a focal point around which stories are shared, and connections are forged. Choose a stylish fire pit or an elegant fireplace to infuse your space with warmth and mystique.
Textile Elegance & Adding Softness Among the Elements
Pillows & Throws, Your Cocoon of Comfort
Textiles are the soulful touches that transform outdoor spaces into extensions of our homes. Scatter plush pillows and drape soft throws over furniture to craft a nest of comfort and style. Mix patterns and textures with eclectic and warm designs, to cultivate a sense of belonging and relaxation.
Natural Harmony & The Whisper of Plants
A Tapestry of Greenery
Plants are the silent composers of ambiance, creating a lush, breathing backdrop to our outdoor moments. Arrange them in charming pots or let them cascade from hanging baskets, blending textures and shades of green to compose a living tapestry that soothes and invigorates the senses.
Floral Symphony
Intersperse your green arrangements with bursts of floral color, adding layers of vibrancy and fragrance to your outdoor symphony. Let your space be a canvas where blossoms paint their fleeting, delicate beauty, echoing the quintessential Martha Stewart's love for gardens brimming with personality and life.
Gather Round: Tables as Gathering Points
A Convivial Anchor
Tables are the anchors around which the al fresco magic revolves. Whether it's a rustic wooden table with warm, practical style, or a sleek, modern piece, it becomes the convivial heart where food, laughter, and spirits converge in a celebration of the present moment.
Adding the Final Brushstrokes:
Creating ambiance in outdoor spaces is a delightful dance between light, texture, color, and elemental energy. Each piece, each detail, is a note in the symphony of your space, contributing to the overall melody of warmth, enchantment, and connection.
Remember, your outdoor space is a blank canvas waiting for your brushstrokes. Let the lights twinkle like stars in your nocturnal sky, let the textiles embrace you with their soft whispers, let the fire tell its ancient, crackling tales, and let the plants and flowers sing their silent, harmonious songs.  In crafting this ambiance-filled sanctuary, you are creating a haven where every moment is wrapped in magic and every detail tells a story.  Lean on us here at Porch+Patio to help you with design ideas, staging, picking the perfect furniture for your oasis, & more.  It's where our passion lies, and we can't wait to help you get started!
Unleash Your Inner Design Guru and Create a Patio Oasis!
Today, we're taking a deep dive into the enchanting world of arranging patio furniture. Think of it as choreographing a ballet of comfort, style, and functionality. Whether you're a design novice or a seasoned decorator, these smart strategies will help you create a patio setup that's both visually stunning and incredibly inviting.
The Foundation: Start with a Focal Point
Every masterpiece begins with a focal point that anchors the composition. Your patio is no different. It could be a statement piece of furniture, a captivating fire pit, or even a mesmerizing view. Let this focal point guide your arrangement, like a North Star for your design journey.
The Art of Symmetry and Asymmetry
Symmetry offers a classic and balanced look, perfect for formal settings. Imagine identical chairs flanking a central table – it's like a design embrace. On the flip side, asymmetry adds a dash of playfulness and intrigue. Mix different chair styles, stagger heights, and create pockets of visual interest.
Zoning: Divide and Conquer
A well-arranged patio serves various functions like dining, lounging, and maybe even a cozy reading nook. Zoning helps you define these areas. Use rugs, outdoor planters, or even subtle changes in flooring to create distinct zones that flow seamlessly into each other.
The Golden Rule of Flow
Just like your favorite playlist, arranging patio furniture should have a rhythm. Ensure a smooth flow by allowing enough space between furniture pieces for easy movement. Nobody wants to navigate an obstacle course just to reach the chaise lounge!
Play with Scale: The Big and the Small
Balance is the name of the game when it comes to mixing furniture sizes. Pair larger items like a spacious dining table with daintier chairs. Think of it as the design equivalent of a haute couture outfit – it's the unexpected contrast that makes heads turn.
The Art of Conversation
If your patio is the social hub of your abode, create cozy conversation corners. Angle chairs towards each other, add a small table within arm's reach for drinks, and voilà – you've crafted a space that's perfect for heartfelt discussions under the stars.
Vertical and Overhead: Think Upwards
Don't neglect the vertical space! Hang planters, wall art, or even string lights to draw the eye upwards. This not only adds a touch of magic but also makes your patio appear more spacious.
The Power of Pops: Color and Accessories
Your patio is your canvas, so let your personality shine through color and accessories. A vibrant outdoor rug, cushions in bold hues, or even a collection of quirky outdoor lanterns can transform your patio from plain to positively enchanting.
Visualizing and Tweaking
Before you commit to your furniture arrangement, do a visual test. Use makeshift markers to position your furniture and walk around the space. Is it inviting? Does it feel functional? If something's amiss, tweak the arrangement until it clicks.
Less is Often More
Remember, a cluttered patio is like an overstuffed burrito – it might look good, but it's not practical to enjoy. Opt for quality over quantity. Each piece should serve a purpose and contribute to the overall harmony of your outdoor haven.
Your Outdoor Masterpiece Awaits
As you embark on your patio furniture arranging adventure, remember that it's all about creativity, intuition, and making your space a reflection of you. So, channel your inner design guru, let your imagination run wild, and orchestrate a patio arrangement that'll leave your guests in awe and you basking in the comfort of your outdoor masterpiece. Cheers to the art of arranging – may your patio be your canvas! Click here to visit our site and see our outdoor patio furniture offerings to help you get started on your patio oasis!
Crafting Your Own Slice of Paradise, One Piece at a Time
Today, we're diving into the art of patio furniture sizing – a magical dance of proportions that can transform your outdoor space into a cozy haven. Imagine sipping your morning brew on a chair that feels just right, or sinking into a sofa that's like a warm embrace. Let's unravel the mysteries of furniture sizing, shall we?
First things first – when it comes to patio furniture, it's all about getting cozy without feeling cramped. We're talking chairs that beckon you to sit down, and sofas that practically demand a languid sprawl. But before you go all "Goldilocks" on us, here's a secret: measure, measure, measure!
The heart of any patio setup is often the sofa, and its trusty sidekick, the loveseat. Think of them as your dynamic duo – the Batman and Robin of outdoor lounging. Choose a sofa that's deep enough for you to sink into, yet not so deep that you feel like you're auditioning for a futuristic space film. Add a loveseat to the mix, and voilà – you've got a conversation nook that practically screams, "Stay awhile!"
Single Chairs: Where Comfort Gets Personal
Ah, the solitary chair – a personal throne in your outdoor kingdom. This is your chance to play matchmaker: find a chair that fits your unique dimensions like it was tailor-made. Arms should be just high enough to support your elbows when you're engrossed in that gripping novel, and the seat depth should cradle you without making you feel like you're in a beanbag chair.
Dare to be Ottoman!
Ah, the unsung hero of comfort: the ottoman. Not only does it double as extra seating in a pinch, but it also lets you put your feet up and truly embrace the laid-back lifestyle. Choose one that's the right height – low enough to rest your feet, high enough to double as a coffee table when guests arrive.
Tables: Where Patio Furniture Form Meets Function
Now, onto the tables – the unsung heroes that hold your drinks, snacks, and even those sun-hat selfies you just had to take. Opt for a coffee table that sits at a comfortable height for your seated guests to reach their refreshments with ease. And for the dining table, make sure there's enough space for your plates, your elbows, and those inevitable dramatic gestures during heated discussions.
Umbrellas and Shade: Size Matters, Too!
Don't forget the shade! If you're lucky enough to have a patio umbrella, make sure it's appropriately sized to provide ample coverage. There's nothing worse than a patio umbrella that's playing hide-and-seek with the sun, especially while you're trying to enjoy your outdoor feast.
The Power of Proportions: Pulling It All Together
The secret sauce to a visually pleasing patio setup? Proportions, my friends. Think of your outdoor space as a symphony. Each piece of furniture plays a unique role, and when they're in harmony, it's music to the eyes. Avoid overcrowding or isolation. Let each piece breathe, and ensure there's enough room for movement. And remember, a touch of asymmetry can add a dash of intrigue to your setup.
The Final Test: The Comfort Shimmy
Before you break out the lemonade and officially declare your patio open for lounging, give the furniture a "comfort shimmy." Sit, lounge, pretend to sip a drink – whatever it takes to make sure every piece feels just right. If you're doing the furniture shuffle, make sure you've got enough clearance space to navigate without bumping into things.
Your Perfect Patio, Your Way
Remember that it's not just about numbers and measurements – it's about crafting an outdoor retreat that suits your style and comfort. So, measure twice, choose wisely, and let your patio become the haven you've always dreamed of. Here's to cozy lounging and endless relaxation in your personal slice of paradise!
The Ultimate Guide to Weekend Gatherings with Friends
Friends, Firepits, and Fabulous Food: Your Recipe for Weekend Magic!
This blog goes out to all the social butterflies and weekend warriors! If there's one thing that makes the workweek worthwhile, it's the promise of a fantastic weekend spent with friends. And what better way to savor those precious days than by hosting a weekend gathering on your patio? We're talking fireside chats, outdoor rugs that define the cozy zone, and patio dining sets that become the epicenter of food and laughter. So, grab your beverage of choice and let's dive into the art of creating weekend memories that'll warm your heart and fire up your spirit!
Setting the Stage: The Heartwarming Firepit
Before we get to the nitty-gritty, let's talk about the heart of your weekend gathering – the firepit. It's like a magnetic force that draws friends closer and ignites conversations. Imagine everyone gathered around the dancing flames, sharing stories, and toasting marshmallows like seasoned pros. A firepit isn't just a source of warmth; it's the centerpiece of camaraderie.
Outdoor Rugs: Cozy Corners That Define Fun
To truly transform your patio into a welcoming oasis, consider outdoor rugs that define gathering zones. Picture plush rugs that delineate the firepit area from the dining space. It's like rolling out a red carpet for your friends, inviting them to kick off their shoes and embrace the weekend vibes.
Now that you've set the stage, let's talk seating. Every weekend gathering needs a mix of comfy spots for lounging and sturdy chairs for dining delights. Enter the patio dining sets – a place where friends can gather to savor delicious meals while swapping stories and clinking glasses.
Throw Pillows and Blankets: Instant Comfort Boosters
Don't stop at patio dining sets; think about the lounging areas too. Scatter throw pillows and blankets like confetti – they're instant comfort boosters that encourage friends to sink in and unwind. It's like a welcoming embrace from your patio itself.
Feast Fit for Kings and Queens: Food and Drinks Galore
A weekend gathering is incomplete without a feast that tantalizes taste buds and satisfies hungry souls. Think grill masterpieces, vibrant salads, and refreshing beverages that keep the conversations flowing. And don't forget dessert – because nothing says "weekend treat" like a sweet finale.
DIY Beverage Stations: Sip, Mix, and Mingle
Elevate your hosting game with a DIY beverage station. Arrange a selection of beverages, mixers, and garnishes, and let your friends channel their inner mixologists. From mocktails to creative cocktails, the beverage station becomes a hub of mingling and merriment.
Games and Giggles: Adding Fun to the Mix
Weekend gatherings are all about relaxation and laughter, so why not infuse some games and giggles into the mix? Set up lawn games like cornhole or giant Jenga for some friendly competition that'll have everyone in stitches.
A Playlist That Sets the Mood
Music sets the tone for every gathering. Create a playlist that spans the moods of your event – from relaxed tunes during sunset to energetic beats that encourage dancing under the stars. The right playlist can elevate your weekend gathering from fun to unforgettable.
Sunset Splendor: Gathering Beyond the Daylight
As the sun dips below the horizon, your weekend gathering takes on a new dimension. Imagine the soft glow of string lights illuminating your patio, the firepit casting a warm embrace, and friends huddled close as the night unfolds. It's a magical scene that transforms your space into a realm of coziness and camaraderie.
Embracing the Moment: Toasts, Laughter, and Memories
As your weekend gathering winds down, take a moment to savor the present. Raise a toast to friendships old and new, to laughter that echoed under the stars, and to the memories that were etched in your patio's very fabric. These moments are what make weekends so precious.
The Art of Weekend Magic
Remember it's not just about the firepit, the outdoor rugs, or the patio dining sets. It's about creating an atmosphere where friends feel cherished, conversations flow effortlessly, and the joy of togetherness lingers long after the weekend fades. So, gather around the fire, sink into the cozy spots, and let the laughter and love light up your patio. Here's to weekends that become unforgettable stories, and to the magic that happens when friends come together!